Jan

20New workout format to try!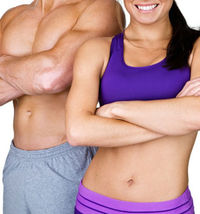 At H4 we change our formats every 4-6 weeks. The format below is great for fat loss and can be done by anyone with any fitness level.
The format looks like the following. Do 3-4 sets of each tri-set and between 8-12 reps of each exercise. Depending on your fitness level rest anywhere 0 sec-2min between sets. As you can see the focus is a higher ratio of pulling movements and lower body hip dominant movements to fix imbalances commonly seen with most people.
**I recommend doing core work before starting the first tri-set. Below is only 3 tri-sets you could even add a forth if you wanted to. 
A1) UPPER BODY PULL
A2) LOWER BODY HIP
A3) CONDITIONING EXERCISE ( can be for reps or for time between 10-60 sec )
B1) UPPER BODY PUSH
B2) LOWER BODY QUAD
B3) CONDITIONING EXERCISE ( can be for reps or for time between 10-60 sec )
C1) UPPER BODY PULL
C2) LOWER BODY HIP
c3) CONDITIONING EXERCISE ( can be for reps or for time between 10-60 sec )
Conditioning examples include- jump rope, burpees, battling ropes, ball slams, kettlebell swings, sled pushes, anything along those lines
Upper body pull- row variations, chin-ups, pull-ups etc
Upper body push- any press variation, shoulder and chest exercises
Lower body hip- glute thrusters, deadlift variations, leg curls etc
Lower body quad- squat variations, lunges etc