May

08Top 5 best fitness equipment to own for home use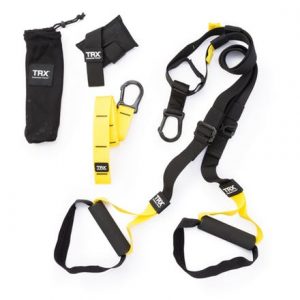 For most people with home gyms, one can find the typical large cardio and/or cable machines. These are all great options, and you would indeed benefit from purchasing them. We recommend you check out the following pieces of equipment from our top 5 list. Our list was compiled by keeping in mind function, affordability, availability and the size of the equipment.
TOP 5 LIST
TRX Straps – Best all around fitness tool a person can have. The best part is it does not take up much space and can be taken with you no matter where you travel. Plus, it allows you to train the entire body without having to buy multiple pieces of equipment. You just need something solid to attach it to.
Mini bands – These small bands pack a big punch and are great to train the hips, glutes and overall lower body. Just like the TRX, they travel well. We suggest buying a black, blue and green band. Typically, the darker band colors add more resistance. We like the brand from Perform Better.
Spri resistance bands – These versatile bands allow you to work the upper and lower body as well as the core. Just like the TRX and mini bands, it is very easily travel with them. We suggest buying a green, red, blue and eventually a purple. The darker the band colors add more resistance.
Dumbbells – These should be a staple in everyone's gym. If you do not have the budget or space to get a full set, you can buy the all in one type such as Bowflex's SelectTech 552. Another option to help with the budget is the Yes4all Adjustable Dumbbells. If you want just the traditional dumbbells go with a brand like York or Perform Better.
Exercise ball – This is a great tool to use for core and leg strengthening. It is best to invest in either a 65 cm or 55 cm sized ball.