May

05Try This Workout Format For Fat Loss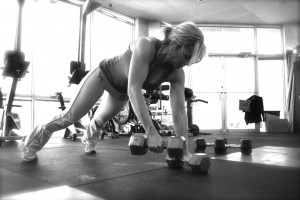 We cycle our workout formats at H4 for best results and to keep it fresh. This format below incorporates more conditioning that our normal workouts and will leave your heart rate elevated the whole workout. This format also includes pauses on multiple exercises to help stimulate more muscle fibers. Ideally you can use this format for 3-5 weeks before you would want to change. Make sure you use the proper weight to challenge yourself for the amount of reps listed.
No rest between sets unless you need it. Take your rest after the second set of the conditioning on each superset.
Sample Workout-
A1) TRX Row- 6 reps, hold each for 4 sec
A2) Goblet Squat- 8 reps
4 sets
After 4 sets go right into-
*Kettlebell swings-15 reps
*Lateral shuffle-20 yards, down and back x 2
Do 2 sets then rest before moving to B1/B2
B1) Standing cable chest press- 6 reps, 4 sec count as you lower back to the chest
B2) Single leg glute bridge- 8 reps each
4 sets
After 4 sets go right into-
*Kettlebell swings-15 reps
*Lateral shuffle-20 yards, down and back x 2
Do 2 sets then rest before moving to C1/C2
C1) Half Kneel Cable Pulldown- Half kneel stance, grab each cable from a high position with your palms facing forward. As you pulldown slightly turn your palms so they end up facing one another. 6 reps, 4 sec hold at the end of each
C2) Reverse lunges- 8 reps each leg
4 sets
After 4 sets go right into-
*Kettlebell swings-15 reps
*Lateral shuffle-20 yards, down and back x 2
Do 2 sets then rest before moving to D1/D2
D1) Renegade rows- 8 reps each
D2) Lateral band walks- 8 reps each direction plus a 8 sec pulse each side ( the pulse you kick your leg back and out for 8 sec )
4 sets
After 4 sets go right into-
*Kettlebell swings-15 reps
*Lateral shuffle-20 yards, down and back x 2
Do 2 sets
Finish with some core work right after the last round of conditioning
If you need to make this even harder- Add sets,reps or increase the distance of parts of the conditioning
If you need to scale this back- Give yourself rest between sets on the conditioning